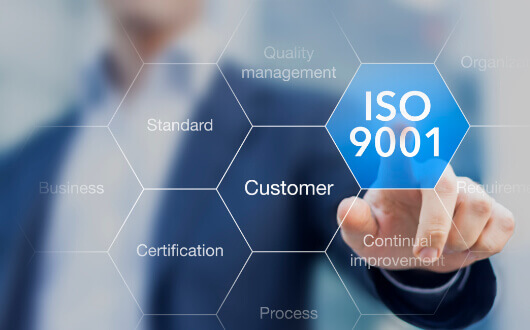 ISO 9001 is a globally recognised standard for quality management systems (QMS). It provides organisations with a framework to consistently deliver high-quality products and services while meeting customer and regulatory requirements. In this blog, we will delve into the key aspects of ISO 9001, its benefits, and how it can enhance your business operations.
Understanding ISO 9001
ISO 9001 is developed and maintained by the International Organization for Standardization (ISO), an independent international body composed of representatives from various national standards organisations. It is applicable to organisations of all sizes and industries, from manufacturing to service providers.
At its core, ISO 9001 focuses on establishing and maintaining a robust quality management system that emphasises continuous improvement, customer satisfaction, and adherence to legal and regulatory requirements. It outlines a set of requirements that organisations must meet to achieve certification.
Key Principles of ISO 9001
ISO 9001 is based on a set of eight fundamental quality management principles. These principles serve as guiding concepts for organisations to implement effective quality management practices. They include:
Customer focus: Understanding and meeting customer needs and expectations.
Leadership: Establishing a clear vision and direction for the organisation.
Engagement of people: Involving and empowering employees at all levels.
Process approach: Managing activities as interconnected processes.
Improvement: Continually striving for better performance and efficiency.
Evidence-based decision making: Using data and information to make informed decisions.
Relationship management: Building and maintaining mutually beneficial relationships with stakeholders.
Continual improvement: Pursuing incremental enhancements to processes and systems.
Benefits of ISO 9001
Implementing ISO 9001 brings numerous advantages to organisations. Some key benefits include:
Enhanced customer satisfaction: By consistently meeting customer requirements and expectations, organisations can boost customer satisfaction and loyalty.
Improved processes: ISO 9001 encourages a process-oriented approach, leading to more efficient operations and reduced errors.
Increased credibility: ISO 9001 certification demonstrates an organisation's commitment to quality, enhancing its reputation and attracting potential customers.
Compliance with regulations: ISO 9001 ensures organisations comply with relevant legal and regulatory requirements.
Better decision making: By using data-driven insights, organisations can make informed decisions that drive performance and success.
Continuous improvement culture: ISO 9001 fosters a culture of continual improvement, encouraging innovation and growth.
Implementing ISO 9001
Implementing ISO 9001 requires a systematic approach. The process typically involves the following steps:
Gap analysis: Assessing the organisation's existing processes and identifying areas for improvement.
Documentation: Creating a quality manual, procedures, work instructions, and other necessary documents.
Training and awareness: Providing employees with the knowledge and skills to understand and implement the QMS effectively.
Process implementation: Executing the defined processes and procedures across the organisation.
Internal audits: Conducting regular internal audits to identify non-conformities and areas for improvement.
Certification audit: Engaging an accredited certification body to evaluate the organisation's compliance with ISO 9001 requirements.
Continuous improvement: Continually monitoring and measuring performance, identifying opportunities for enhancement, and implementing corrective actions.
Conclusion
ISO 9001 is a powerful tool for organisations seeking to establish a robust quality management system. By adopting ISO 9001 principles and practices, businesses can enhance customer satisfaction, improve operational efficiency, and drive long-term success in today's competitive landscape.
Incorporating ISO 9001 into your business operations can provide a solid foundation for quality management, setting your organization apart from the competition and positioning it for growth. Embrace the principles of ISO 9001 and embark on a journey toward excellence in quality management.
Remember, understanding and implementing ISO 9001 is just the beginning. Continual improvement is the key to sustaining high-quality standards and adapting to evolving customer needs. Start your ISO 9001 journey today and reap the benefits of a robust quality management system.